Quality 12-Lead Portable ECG for Saint Vincent
「Changhua Christian Hospital (CCH), established in 1896, is the well-known Christian hospital and international medical center in Taiwan. CCH started its abroad medical volunteer service in 2004 and have had its footprint over Asia, Africa, South Pacific, and Caribbean. This year, from 9/17-10/4, a volunteer team, including cardiologists, emergency medicine doctors, ICU nurses, pharmacists, went to Saint Vincent, a small island located in Caribbean, for medical service. Lacking professional doctors with cardiology knowledge, heart disease diagnosis and treatment are not widely offered in Saint Vincent. To help more patients during this trip, the volunteer team looked for the perfect 12-lead ECG machine. Considering the convenience through long-time travel and reliability of diagnosis, the Taiwan Excellence award winning BriteMED® 12-Lead Portable ECG was chosen, featuring portability and high-quality ECG waveforms, for the abroad medical service.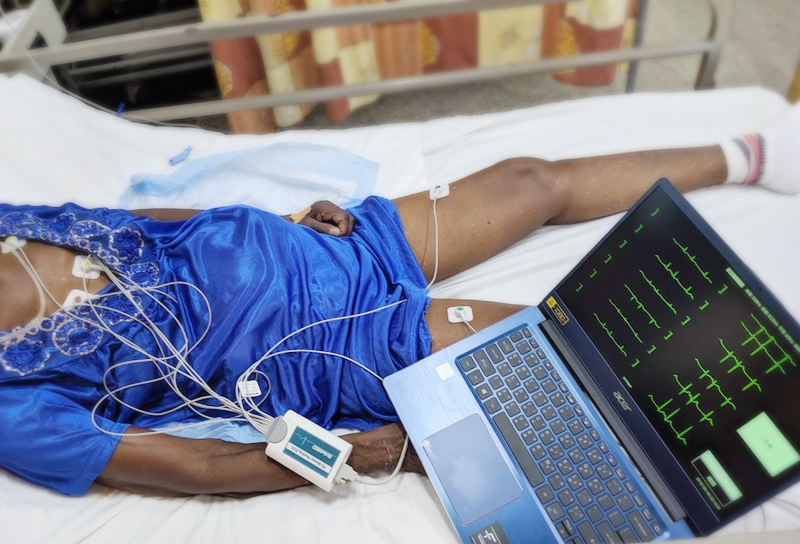 The Challenge of Availability for A Quality Portable 12-Lead ECG
"In Saint Vincent, cardiologists are rare and precious. Inhabitants are so happy to have cardiologists to visit. I was so popular these days in Saint Vincent. This time we brought BriteMED® 12-Lead Portable ECG to do heart screening for inhabitants. First of all, it's really small which I can place it in my luggage. With a general laptop, it can be carried conveniently to provide measurement and diagnosis service bed to bed for patients. During the limited time in Saint Vincent, the easy-to-operate ECG device truly saves me lots of time to serve for more patients." Dr. Yang said, the cardiologist of CCH medical volunteer service team.
BriteMED® 12-Lead Portable ECG displays real-time and quality 12-lead ECG waveforms by the expertise in noise filtering and signal processing. The compact design and 157.5g weight enhance the true portability for carry-around applications. The flexible and comprehensive reporting system provides convenient A4 print ECG report and digital PNG format to share for further consultation. 
Celebrate Humanity with Technology
"The successful experience with CCH Medical Volunteer Team encourages us to keep promoting and developing innovative products to serve for more patients. We are so glad that our ECG could travel with CCH volunteer medical service team to enhance medical service outside of hospital, help patients far away, and truly make their life better." Lesley said, the Marketing Manager of BriteMED. 

            

                            

Quality Real-time 12-lead ECG Waveforms            

True Portability for Carry-around Applications         

Window Based Platform for Quick Integration to HIS/PHR System